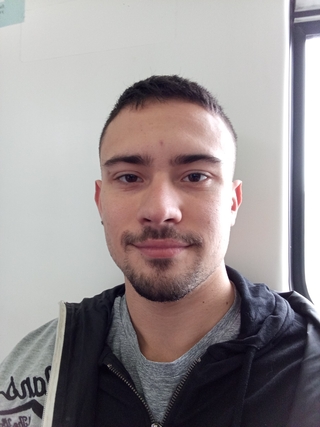 Valentin Sac
Database Administrator
Caballito
Soy Valentín sac tengo 21 años, vivo con mí novia, tengo una gata, estudio visitador medico, tengo ganas de trabajar y de progresar en lo que estudio. Trabaje en 2 locales gastronómicos con tareas relacionadas a la atención al público, fui recepcionista en una barbería Smiths barbers, realizando tareas de organización de turnos horarios de personal, pagos, entre otras. Actualmente me encuentro trabajando como asesor comercial en premedic, es una obra social y ni tarea es captar clientes explicarles los beneficios y realizar el ingreso a la cobertura, chequeando aportes, situación actual laboral, situación con su cobertura médica actual. También realizó soporte técnico para socios actuales, actualizaciones de pago o cualquier inconveniente que puedan llegar a tener.

Careers
Camarero
Hotel madero
Full time contract
2/2022 - 1/2023
Atención al público argentino y extranjero
Servicio de mesas
Armado de salón
Camarero
Casa sur hotel
Full time contract
1/2021 - 9/2021
Atención al público
Servicio al cliente
Atención al público de extranjeros
Soporte técnico/ asesor comercial
Premedic- cobertura medica
Full time contract
2/2023 - 9/2023
Atención al público
Captar potenciales clientes
Soporte técnico a clientes actuales
Ingreso de nuevos clientes
Education
Instituto griego Atenagoras I
Informatica
High School / GED
Class of 2023
Uai
Visitador medico
Associate Degree
Class of 2023
Skills
Database systems
Supervised Learning
Java
Working with data
Web design
Web implementation
Mobile trends
Statistical programming languages
Application design
Python
Experience
Mid-level
1-3 years
Welcome to Outdefine
A free tokenized community dedicated to connecting global tech talent with remote job opportunities. Our platform is designed to help you connect, learn, and earn in the tech industry while providing the chance to collect DEFN tokens. Join our vibrant community today and explore a world of possibilities for your tech career!
Join for free