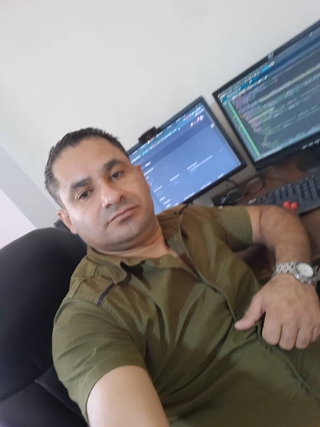 Richard E. López
Fullstack Engineer
Valencia, Carabobo, Venezuela
Consultor, Arquitecto y desarrollador Full Stack, me ocupo del diseño, programación, implantación y mantenimiento de sistemas, incorporando métodos para optimizar el rendimiento económico, así como la
evaluación de costos, la efectividad de los recursos, máquinas y técnicas implementadas en los istemas. También formulo planes que permiten la integración de diferentes proyectos de desarrollo, el manejo adecuado de las relaciones humanas y la visión general o el norte del proyecto. Me desempeño en las áreas de control y sistemas en general, en cargos como analista, diseñador, administrador de sistemas o gerente de sistemas, docencia e investigación
Careers
Desarrollador Full Stack.
MACROSTORE
Full time contract
2/2023 - 7/2023
Desarrolle backend y frontend en Laravel 10 (PHP), con JS, CSS, BOOTSTRAP, usando template VueSJ, desarrolle API Restfull
usando MVC Laravel con response JSON, HTTP Client Guzzle y seguridad JSON Token, asi mismo y en paralelo desarrolle
frontend en proyecto Laravel usando HTTP Client, el backend es un pull para publicaciones automáticas en los MKP Mercado
libre, Falabella, Ripley, Paris y Shopify, así como la configuración automática de autenticación en los diferentes MKPS.
Desarrollador Full Stack.
Healthcheck
Full time contract
1/2021 - 7/2022
Estuve ofreciendo soporte y mantenimiento a plataforma de datos originados a través de scrapeos de datos con Selenium
a múltiples web bajo un esquema de desarrollo muy interesante usando metodología ágil SCRUM. (Frontend: Angular, HTML5,
Blazor C#, Blazor (SERVER side && WASM), bliblioteca de componentes Radzen, Blazor UI Component Native, Javascript -
Backend: Visual Studio .Net, C#, API Restfull .Net Core, SQL Server 2019).
Desarrollador .Net
Seguro Inteligente
Full time contract
1/2017 - 7/2019
Ajuste la migración de web Services de Protocolo SOAP VB.Net a Protocolo Rest a C#. Migre el desarrollo de los web
services SOAP en Visual Basic .Net al protocolo REST HTTP en C#, Se utilizo la notación JSON tanto para respuestas
solicitadas a los web services de las aseguradoras como las respuesta devueltas por el nuevo WS bajo el nuevo protocolo
Rest, Se utilizo SQL Server como administrador de base de datos.
Education
Instituto Universitario Politécnico Santiago Mariño.
Ingeniero de Sistemas
High School / GED
Class of 2004
Conredsis Microsoft Gold Certified.
Certification MS2072 Administering a MS SQL Server Database.
High School / GED
Class of 2006
Skills
C#
VB.NET
ASP.Net
Azure
SQL Server
PHP
React.js
Vue.js
HTML
CSS
Experience
Senior-level
8+ years
Welcome to Outdefine
A free tokenized community dedicated to connecting global tech talent with remote job opportunities. Our platform is designed to help you connect, learn, and earn in the tech industry while providing the chance to collect DEFN tokens. Join our vibrant community today and explore a world of possibilities for your tech career!
Join for free