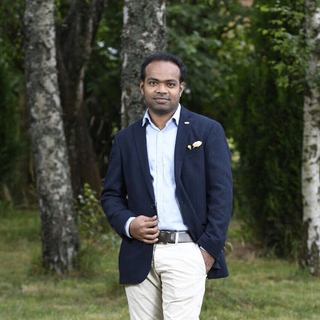 Prabhu RAMASAMY PERUMALSAMY
AWS (Amazon Web services) Developer
Oddanchatram, Tamil Nadu, India
Lead DevOps 
Careers
Lead DevOps
Hubilo
Full time contract
5/2021 - 6/2022
Heading the front-end team.
Providing DevOps and infrastructure solutions and services.
Analyzing the requirements, architecture proposal, and infrastructure implementation.
Setting up end-to-end infrastructure automation and building the CI/CD (Jenkins) flows.
Formulating deployment automation.
Switching infrastructure from on-premises to Cloud.
Performing multi-cloud migrations, and setting up shared resources.
Controlling the transformation from a monolithic architecture to microservices using Docker and Kubernetes).
Building serverless resources in AWS for integrating third parties.
Used Kubernetes, Ansible, Docker, Jenkins, Terraform, AWS and more for DevOps.
Solutions Architect
AlphaV
Full time contract
6/2022 - 2/2023
DevOps engineer, leading team and providing technical consultation.
DevOps as a managed service : building a repeatability into methodologies which enables a managed infrastructure for the organisations
AWS Cloud: consultation, implementation and service provided on AWS infrastructure
CICD: Building and iterating the containers using Groovy, shell and pipeline scripts
Building EKS clusters with eksctl, terraform and declarative kubectl yamls , managing and manipulating cluster resources using rancher and lens
Migration of ECS clusters to EKS using the automation of terraform, ansible , k8s and shell scripts
Building Openshift Container Platform (Redhat Flavor of k8s) using terraform, ansible , k8s and shell scripts
Managing Windows EC2 instance using powershell scripts on userdata and aws cli. Building ec2 instance using powershell
Building Serverless, Chalice and lambda based resources on AWS using python 2 and 3 scripts
Infrastructure Automation : to deploy and implement the complete automation suite across organisation infrastructure
Lead DevOps
AlphaV
Full time contract
5/2020 - 5/2021
As DevOps, guided a team of engineers and provided technical support.
Created methodologies that enabled managing infrastructure for the organization and implemented services provided by AWS's infrastructure.
Built and iterated containers using Groovy, Shell, and pipeline scripts.
Defined EKS (Kubernetes) clusters and automated the migration of ECS clusters to EKS.
Deployed and implemented the complete suite across the organization's infrastructure.
Actively participated in training and building the team with new colleagues.
Organized events where the team and clients could learn about AWS best practices and DevOps methodologies.
Used AWS, Python, Kubernetes, Ansible, Terraform, Oracle for DevOps.
DevOps Technical Lead & PPM Consultant
Wipro
Full time contract
4/2013 - 4/2019
Architectural study (study and drafting of technical specifications)
Building a repeatability into methodologies which enables a managed infrastructure for the organisations - Infrastructure Automation : to deploy and implement the complete automation suite across organisation infrastructure
Containerization of application using docker with yaml, bash/shell scripting
Building Kubernetes cluster using k8s declarative scripts and helm templates
Migration of node-js, python based applications into docker and k8s with infrastructure and configuration automation using terraform and ansible scripts
Ops administration such as cron scheduling, custom process, deamonization, etc using bash/shell scripts
Development of interfaces [Datastage (ETL), Tivoli (scheduler), Pelican / CFT (file transfer) ]
Virtualisation: VMWare, MS Hyper-V, ESXi - Monitoring: Nagios, Datadog, Sumo Logic
Continuous integration and deployment: [Subversion,Git (versioning), Jenkins (deployment)]
Databases: Oracle SQL, Microsoft SQL, MySQL, PostgreSQL - No-SQL: MongoDB, Redis
Clarity L3 Technical Support
Wipro
Full time contract
10/2010 - 4/2013
Working with Functional Analyst to understand the business requirements
Preparation of technical design documents and carrying out development for Enhancement requests.
Technical deployments and patches using shell scripts, other scope of automation are not under L3
Fixing the bugs in Current code of custom Extracts, Jobs, Portlets etc
Coordination with L2 Support and Business users. - Resolving User tickets
To The objective of this project is to provide the complete Level 3 support to the client Clarity instances. Client is using two different Clarity instances to maintain their IT Projects. One instance is running on Clarity 7.5.3 and another is running on Clarity 8.1. The responsibility of L3 is to fix the bugs in current code, resolve user tickets and develop new enhancements (Portlet, Look-up, Extracts) and keep single point of contact with CA Support.
Providing clarifications to users on Clarity functionality and fixing the bugs.
Resolving with Timesheet related issues for end users.
Creating projects and users in clarity upon customer requirements.
Managing security and maintenance activities.
Enhancement of portlets for service management requests.
To provide consolidated solution of tools and practices for project management, resource management and portfolio management for the company. This also provides the centralized database to support the tactical capacity planning. Resource's timesheets will be tracked through clarity. This is integrated with company's accounting systems from different regions. This has also been integrated with existing resource and project management tools.
Education
Anna University
Computer Science and Engineering
Bachelor's Degree
Class of 2010
Skills
DevOps
AWS
Kubernetes
Docker
Git
Python
Monitoring campaigns
Information architecture
Experience
Senior-level
8+ years
Welcome to Outdefine
A free tokenized community dedicated to connecting global tech talent with remote job opportunities. Our platform is designed to help you connect, learn, and earn in the tech industry while providing the chance to collect DEFN tokens. Join our vibrant community today and explore a world of possibilities for your tech career!
Join for free