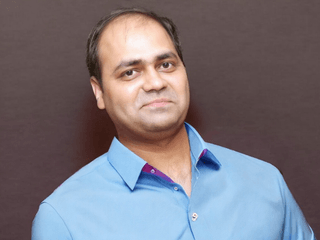 Himanshu Shukla
Technical Lead
Greater Noida, Uttar Pradesh, India
I bring a wealth of expertise in C# .NET development, having worked extensively with Microsoft technologies throughout my career. My proficiency in the design, development, and maintenance of scalable and robust applications has enabled me to successfully deliver projects in diverse industries and domains. With a focus on utilizing best practices, I have consistently achieved exceptional results, meeting, and exceeding client expectations.

Highlights of my qualifications include:

- Over 15 years of experience in full-stack C# .NET development, encompassing the entire software development lifecycle.
- Proven expertise in architecting and implementing complex, enterprise-level applications using Microsoft technologies, including ASP.NET, MVC, WPF, and Entity Framework.
- Solid understanding of software design principles, design patterns, and SOLID principles, ensuring code maintainability, scalability, and reusability.
- Extensive experience in working with databases, such as SQL Server, Oracle, and MySQL, and proficient in writing efficient database queries and stored procedures.
- Strong problem-solving skills, with the ability to analyze and debug complex issues and provide effective solutions within demanding timelines.
- Excellent communication and collaboration skills, demonstrated through successful teamwork with cross-functional teams, stakeholders, and clients.

In addition to my technical expertise, I am a dedicated professional with a strong work ethic, a passion for learning and staying updated with the latest industry trends, and a commitment to delivering exceptional results. I thrive in challenging environments and can effectively manage multiple projects concurrently.
Careers
Lead, Technology
ClickMinds Solutions LLP
Full time contract
12/2018 - 9/2023
Involved in architecture level discussions, high level design for all clients product. Enhancing the performance and productivity of the applications.
Understanding clients requirements and suggesting best suitable framework for their products.
Creating channels for documentation process which involves constant communication between client and allocated resources for the product. Freezing the requirements further to showcase first deliverable to the client.
Full proofing the concept provided to clients and presenting dummy application which mimics the products of Clients need.
Creating the framework, plan, and processes to be used for risk management.
Collating historical information & lessons from all projects, sharing knowledgebase for the guidance of future projects
Working on and assigning tasks/stories as per the sprint planning.
Technical Lead
Fiserv India Pvt. Ltd.
Full time contract
1/2010 - 11/2018
Engaging with Scrum Masters to increase the effectiveness of the application of Scrum in the organization, facilitating sprint planning, retrospective, and sprint demos.
Interfacing with Program Management Office to ensure project goals and requirements are being met.
Planning project timeline, conducting daily stand-up meetings, reviews, retrospectives, and Scrum-related meetings; providing support to the team,
Tracking deliverable and communicating team velocity and sprint/release progress to all assigned teams
Part of architect team of Enhanced MIS System where client pain area was to generate monthly/weekly reports containing loads of data (multiple trillion records and more than 20 GB of physical size reports). Existing system was not smart enough to manage disk storage and required more than 250 GB of free disk space for every run. Due to this in-efficiency, system runs some self- destructing scripts hampering MIS system itself. Received Fiservs most esteemed Shining Star award for managing MIS System single-handed and swiftly.
Played a key role in Analyzing, designing, building architecture for multiple products like RegEd Xchange, TWG Web, WLS4, MIS, XP2 Systems.
During assignments in XP2, I managed three most business critical and complex systems (CNOM Loans, Safe Deposit Box & Maximum Loan Limits) in one single time. Clients trust was raised higher on me (and team) during this time as this system were long awaited features for their client. Received Fiservs most esteemed Shining Star award for my contribution during this tenure.
Development of technical solutions addressing business requirements using Microsoft technologies. I am more focused into an environment where we keep helping each other for finding best solutions.
Managing team of 20+ in size and conducting day to day activities to resolve their technical, architecture level and behaviour level concerns.
Senior Software Engineer
Hewlett Packard
Full time contract
6/2007 - 12/2009
Creation of Detailed Analyzing Requirement, Designing, Coding, Preparing Unit Test Cases, Functional/Load Testing, Database Design, Following up issues after UA
Improved performance of a very complex process from 30 plus minute turnaround time to just 12 seconds.
Education
Harcourt Butler Technological Institute
Computer Science
Master's Degree
Class of 2007
Lucknow University, Lucknow
Computer Science
Bachelor's Degree
Class of 2002
Projects
For the Cane Management System, the client's goal was to develop a user-friendly application that assists Sugar cane growers in navigating their surroundings independently and managing each operation from the sugar cane survey to the delivery of the sugar
In collaboration with RegEd Xchange, the goal of the project was to develop a robust and scalable online platform for regulatory compliance training. As a key member of the development team, my contribution included designing and implementing the backend.
ClickCOM aimed to establish an online platform for our client to sell products and provide a seamless shopping experience to customers. As a pivotal member of the development team, I made significant contributions to the implementation of the project.
ClickERP, revolved around implementing an Enterprise Resource Planning (ERP) solution for our client. The client's primary goal was to streamline their business processes, enhance operational efficiency, and improve overall productivity.
The Baggage Counter project aimed to provide a seamless and efficient counting solution for packaged items on a production belt. The client's goal was to automate the counting process, reduce errors, and improve productivity.
As a part of a dynamic team, I contributed to a project for The Warranty Group, aiming to enhance their claims management system to optimize efficiency and improve customer satisfaction. The client's goal was to streamline their processes, reduce claim.
The client, a leading credit union, sought to modernize and streamline their account processing platform to enhance operational efficiency, improve member experience, and enable future growth
Skills
C#
RESTful API
.NET
SQL
React
Software development
Problem-solving skills
JQuery
Html5
Experience
Senior-level
8+ years
Welcome to Outdefine
A free tokenized community dedicated to connecting global tech talent with remote job opportunities. Our platform is designed to help you connect, learn, and earn in the tech industry while providing the chance to collect DEFN tokens. Join our vibrant community today and explore a world of possibilities for your tech career!
Join for free