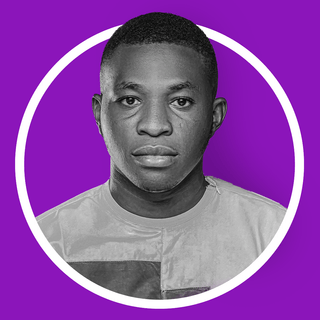 Emmanuel Joseph
Blockchain Engineer
Ado Ekiti, Nigeria
Building the future with Blockchain Tech as a Web Developer. 
Careers
Blockchain Developer
Freelance
Full time contract
5/2021 - 11/2023
Created a Solidity game bot using Firebase Cloud Functions for the AVAX Blockchain, showcasing expertise in decentralized application development.
Designed and implemented an NFT Marketplace using advanced technologies such as Ganache and Truffle.
Developed a mini e-commerce testnet decentralized app using Solidity and CELO Blockchain, showcasing proficiency in Solidity programming.
Blockchain Developer
XAEGIR
Full time contract
8/2022 - 11/2023
Successfully developed an ERC1155 Marketplace Solidity contract using Foundry and performed thorough Unit Testing to ensure optimal performance.
Contributed to the advancement of the blockchain industry by introducing a novel EIP standard that combines the benefits of ERC1155 and ERC3225, with the potential to become widely recognized in the industry.
Expertly utilized GitHub tools to consistently push commits and provide comprehensive documentation for seamless interaction with my Solidity smart contracts.
Engineering Lead
Treate
Full time contract
11/2021 - 7/2022
Designed, implemented, and documented a highly scalable REST API service using MongoDB and Laravel for a Watch-to-Earn blockchain product hosted on the DigitalOcean cloud platform.
Created a versatile Fungible Token contract on the Near Blockchain, integrating multiple distribution systems to enhance the functionality of the Watch-to-Earn product.
Skillfully managed project teams using the Jira Agile project management tool, and effectively communicating through GitLab and Google Chat.
Demonstrated exceptional communication skills in productive client meetings to understand and meet their product requirements.
Education
Ekiti State University
Computer Science
Bachelor's Degree
Class of 2021
Collections
Skills
Solidity
Web3
JavaScript
PHP
Github
Firebase
Optimization
Node
Git: Version control
Web implementation
Experience
Mid-level
5-8 years
Welcome to Outdefine
A free tokenized community dedicated to connecting global tech talent with remote job opportunities. Our platform is designed to help you connect, learn, and earn in the tech industry while providing the chance to collect DEFN tokens. Join our vibrant community today and explore a world of possibilities for your tech career!
Join for free