EXPLORE PREMIER

OPPORTUNITIES
As a skilled professional seeking career growth, you deserve access to the best job opportunities available. Join Outdefine's Trusted community today and apply to premier job openings with leading enterprises globally. Set your own rate, keep all your pay, and enjoy the benefits of a fee-free experience.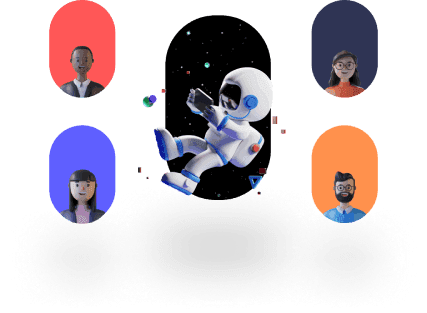 Join now
Experience level
Senior-level
Overview
Lead Center's marketing and social media efforts on twitter, discord, telegram, and any other platform where we engage with our users.
Skills
Requirements
Minimum of 5-8 years of Product Marketing preferably in the consumer / creative / creator space, Product Management experience, or other relevant technology product marketing experience.

Powerful storyteller: written, verbal, and visual.

Demonstrated track record of creating customer segment oriented campaigns to steer new customer acquisition, deepen engagement & retention.

Advanced quantitative and deductive skills. Ability to distinguish between the signal and the noise and make data-guided actions. Due to the newness of the space, a strong ability to create clarity amidst ambiguity and unknowns will be essential.

Outstanding project management skills.

Self-starter and ability to be ready to roll-up your sleeves and get things done.

Demonstrated ability to collaborate effectively across multiple teams.
Duties
Drive creator acquisition, partnerships, consumer awareness, and product adoption.

Be the voice of the customer and translate creator, partner, and consumer needs into actionable insights to inform product messaging, brand differentiation, marketing content, and collateral.

Drive successful product launches and ongoing marketing campaigns in close collaboration with the product team.

Develop strong cross-functional relationships with teams across product, sales, design, brand, communications, support, etc. to create compelling materials, build our pipeline, and improve conversion rates.

Measure and report against the performance of product marketing initiatives.

Think big about the future of NFTs and how you can bring creators, partners, and consumers into the ecosystem more quickly and help them thrive.
The Hiring Process
In order to apply for this position, first complete your profile on www.app.outdefine.com.

We want to learn more about you, so we encourage you to provide us with a brief summary of yourself and your past experience as part of the process. As soon as this is completed, you'll take a technical assessment based on your skill set, and if you pass, you'll earn 500 Outdefine tokens. We will review your application, and if you are qualified, we will invite you to a 1:1 video interview.

Already a Trusted Member of Outdefine? Then go ahead and apply directly for the job of your dreams.
Equal Employment Opportunity
We are an equal-opportunity employer and do not discriminate against any employee or applicant for employment on the basis of race, color, religion, sex, sexual orientation, gender identity, national origin, age, disability, veteran status, or any other protected status. We are committed to creating a diverse and inclusive environment for all employees and applicants for employment. All qualified individuals are encouraged to apply and will be considered for employment without regard to any legally protected status.
Become a trusted member, apply to jobs, and earn token rewards


Create a profile
Create and customize your member profile.


Complete assessment
Earn 500 Outdefine tokens for becoming trusted member and completing your assessment.


Apply for jobs
Once you are a Trusted Member you can start applying to jobs.
Apply Now