EXPLORE PREMIER

OPPORTUNITIES
As a skilled professional seeking career growth, you deserve access to the best job opportunities available. Join Outdefine's Trusted community today and apply to premier job openings with leading enterprises globally. Set your own rate, keep all your pay, and enjoy the benefits of a fee-free experience.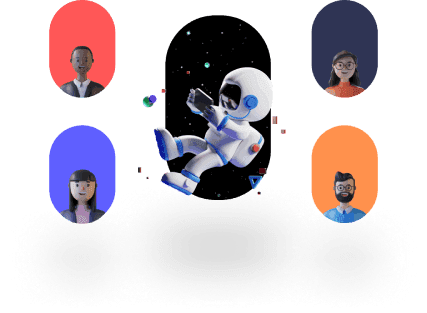 Join now

sr. test engineer
Outdefine Partner

Token rewards eligible
Hiring multiple talent
Experience level
Mid-level
Overview
About Outdefine

Outdefine is a web3 talent community that connects top talent with leading-edge companies and enterprises globally. Companies choose to hire Outdefine Trusted Members because their skills and readiness have been proven.

When you accept a job as a Trusted Member, you keep all of your pay. Traditional hiring networks and agencies charge membership fees and take up to 50% of the talent's earnings. Through Outdefine, talent can connect with and apply directly to top companies, removing the need for these middlemen. Additionally, Trusted Members get lifetime access to premier jobs, networking, and a global community powered by tokens. You can earn Outdefine tokens by working, contributing to the community, and referring friends.
More than 100 jobs are currently listed on Outdefine, with more being added regularly. Join over 5,000 professionals from 25 countries who are building and developing their careers with Outdefine.

In order to apply for this position, first complete your profile on www.outdefine.com. We want to make sure that your application gets the most attention, so we suggest that you start the assessment process now to become a Trusted Member.
To receive direct support from career experts, join Discord.
Skills
Integration
Agile methodologies
Requirements
Dedication- Involves demonstrating a desire to dedicate time and energy to accomplish goals, tasks, assignments, etc. Will do what it takes to get things done.

Flexibility- Is open to change, enjoys the challenge of unfamiliar tasks, anticipates, and adjusts to problems and roadblocks, is not thrown off when things change, can flex to future consequences and trends appropriately.

Interpersonal Skills- The ability to successfully, professionally, and diplomatically interact with others and develop relationships with people who have widely varying styles, levels in the organization, and knowledge of IT.

Problem Solving- Uses rigorous logic and methods to solve difficult problems with effective solutions, probes all fruitful sources for answers, can see hidden problems, is excellent at honest analysis, looks beyond.

Task Management - Delivers quality work on time, translates planning into action by following applicable established procedures or methodologies, proactively monitors and controls task status by collecting and analyzing task data to anticipate and address barriers, appropriately communicates, and resolves or escalates any problems that arise.
Duties
· Sr. Test Engineer job description has been developed to support both the testing functions in the System Test and Integration Test environments.
· System Test Engineer is responsible for creating and leading master test plans, test cases, and test schedules for the projects.
· Primary responsibilities include the execution of test cases and scenarios across individual development projects within the System Test environment.
· Ensures established methodologies and standards are used in product testing. Integration Test Engineer has responsibility for providing mentoring support to the project team throughout the Development Lifecycle.
· This mentoring begins in the requirements development phase to ensure all requirements are both testable and verifiable and continues through system test.
· The Integration Test Engineer is responsible for conducting Integration test and to support the implementation methodologies of new documented, standardized, repeatable testing processes.

Essential Responsibilities: (System Test Engineer)

· Develop/create master test plans and related documents, test cases, and test schedules.
· Execute test cases/scenarios across development projects. Test types to include functionality, user interface, regression, security, and user acceptance.
· Document test scripts and test plans tied back to requirements.
· Identify and track defects, issues, risks, and action items.
· Validate requirements for system testing, report preparation, defect recording, and defect tracking.
· Create defect reports for problems discovered during system test.
· Perform regression testing to validate the resolution of any software or system defects.
· Provide input for program schedules and is responsible for creation and development of Used Cases.

Essential Responsibilities: (Integration Test Engineer)

· Development of test plan, test cases, and project schedules.
· Execution of test cases/scenarios across numerous project platforms in the Integration test environment.
· Responsible for test types which include functionality, user interface, regression, connectivity, performance, load, stress, user acceptance, failover/recovery, and supportability.
· Develop and update integration test plans and procedures.
· Validating requirements for integration testing.
· Report preparation, defect recording, and tracking.
· Identify, record, report, and track defects *May perform other duties as assigned. Entry Requirements: (both job functions)
· Bachelor's degree in Computer Science or Information Systems with one to five years of experience in an IT testing environment and/or any equivalent combination of experience, education, and/or training that enables the candidate to meet the entry requirements.
· The ideal candidate will possess the above plus previous airline experience.

Major Skills and Competencies:

· Communication Skills - The ability to communicate verbally and in writing with all levels of employees and management, capable of successful formal and informal communication, speaks and writes clearly and understandably at the right level.

· Integrity and Trust - Involves being widely trusted, being seen as a direct, truthful individual, can present the unvarnished truth in an appropriate and helpful manner, keeps confidences, admits mistakes, and doesn't misrepresent him/herself for personal gain.

· Teamwork - Involves working well in a collaborative setting, supporting work team by volunteering for and completing assignments, acting as a positive team member by contributing to discussions, developing and maintaining both formal and informal relationships enterprise-wide, defines success in terms of the entire team through mentoring and knowledge transfer.

· Technical Expertise - Involves demonstrating a commitment to increasing knowledge and skills in current technical/functional area, keeping up to date on technical developments, staying informed as to industry practices, knowing how to apply relevant technical processes to appropriate business needs.
The Hiring Process
In order to apply for this position, first complete your profile on www.app.outdefine.com.

We want to learn more about you, so we encourage you to provide us with a brief summary of yourself and your past experience as part of the process. As soon as this is completed, you'll take a technical assessment based on your skill set, and if you pass, you'll earn 500 Outdefine tokens. We will review your application, and if you are qualified, we will invite you to a 1:1 video interview.

Already a Trusted Member of Outdefine? Then go ahead and apply directly for the job of your dreams.
Equal Employment Opportunity
We are an equal-opportunity employer and do not discriminate against any employee or applicant for employment on the basis of race, color, religion, sex, sexual orientation, gender identity, national origin, age, disability, veteran status, or any other protected status. We are committed to creating a diverse and inclusive environment for all employees and applicants for employment. All qualified individuals are encouraged to apply and will be considered for employment without regard to any legally protected status.
Become a trusted member, apply to jobs, and earn token rewards


Create a profile
Create and customize your member profile.


Complete assessment
Earn 500 Outdefine tokens for becoming trusted member and completing your assessment.


Apply for jobs
Once you are a Trusted Member you can start applying to jobs.
Apply Now