EXPLORE PREMIER

OPPORTUNITIES
As a skilled professional seeking career growth, you deserve access to the best job opportunities available. Join Outdefine's Trusted community today and apply to premier job openings with leading enterprises globally. Set your own rate, keep all your pay, and enjoy the benefits of a fee-free experience.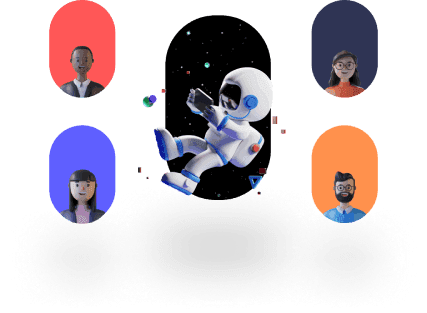 Join now

senior software engineer in test (sdet)
Outdefine Partner

Token rewards eligible
Hiring multiple talent
Experience level
Senior-level
Overview
About Outdefine

Outdefine is a web3 talent community that connects top talent with leading-edge companies and enterprises globally. Companies choose to hire Outdefine Trusted Members because their skills and readiness have been proven.

When you accept a job as a Trusted Member, you will keep all of your pay. Contrast this with traditional hiring networks and agencies that charge membership fees and take up to 50% of your earnings as their markup. Additionally, Trusted Members get access to premier jobs, networking, and a global community powered by tokens. You can earn Outdefine tokens by working, contributing to the community, and referring friends.

More than 100 jobs are currently listed on Outdefine, with more regularly added. Join over 5,000 professionals from 25 countries who are building and developing their careers with Outdefine.

In order to apply for this position, first complete your profile on www.outdefine.com. We want to make sure that your application gets the most attention, so we suggest that you start the assessment process now to become a Trusted Member.

To receive direct support from career experts, join Discord.
Skills
automated testing
Python
Java
SQL
MySQL
Requirements
• 8+ years of experience in Information Technology with expertise in test automation of applications from UI and API layer. 
• Hands on experience of programming concept such as OOPs in scripting languages like Java, .NET, Python and JavaScript. 
• Candidate should have hands on experience of writing, maintaining automated UI and APIs tests written in Java, JavaScript, C#, Python using various open-source testing libraries like Selenium, Cypress, REST Assured, etc. 
• Hands on experience with one or more querying languages such SQL (preferred), Oracle, MySQL and/or No SQL databases (Cassandra, MongoDB etc). 
• Hands on experience in automating backend REST services including writing custom functions using tools such as Postman, REST Assured, Cypress, Ready API etc. 
• Hands on experience of building test automation framework from ground up using modular framework and design pattern like Page Object Model design pattern (POM) etc. 
• Experience of working in distributed agile teams using agile frameworks such as SCRUM , SAFe, XP etc. 
• Hands on experience of working with continues integration tools such Jenkins, Circle CI. 
• Able to independently create and maintain automation test jobs using tools such as Jenkins. 
• Hands on experience working with source code management tools such as GitLab, GitHub, AWS Code Commit etc. 
• Hands on experience of creating test reports from automation test run using tools such as cucumber report, Extent report etc. 
• Ability to quickly adapt to new tools and evolving technologies. 
• Excellent verbal and written communication. 
• Experience of working with various AWS cloud services such as EC2, s3 bucket, AWS code pipeline, CloudFormation, Elastic bean etc. 
• Hands on experience of virtualizing services for test automation using tools such as Wire Mock, Mockito etc. 
• Experience of writing, designing functional test cases using TDD and BDD methodologies using Gherkin syntax. 
• Experience of working with test management and agile management tools such as VersionOne, qTest etc. 
• Experience of working with container orchestration tools such as docker, RED Hat OpenShift, AWS CloudFormation. 
• Experience of non-functional testing such as performance, load, stress, security, assessability and usability testing.

Duties
• Design, develop, execute and maintain software to test the product/application 
• Define automation strategy, automation cases as well as Design tools for unit, functional, and performance testing in a programmatic manner • Participate in design and code inspections. 
• Propose improvements to our existing processes and build automated tools, libraries and utilities in order to improve the team's speed, quality and efficiency. 
• The testing code you write should expose defects in production level code as well as defects at the component and feature integration perspective 
• Work with a wide variety of technologies from front-end UI to back-end distributed web services 
• Own the design and implementation of tests that will help in end-to-end quality of major deliverables working closely with multiple engineers and teams to execute them 
• Integration of both the tests and infrastructure automation into the CI/CD pipeline is also a key responsibility in this position
• Contribute to agile development teams following 12 Factor application development principles 
• Collaborate effectively within team environment
The Hiring Process
In order to apply for this position, first complete your profile on www.app.outdefine.com.

We want to learn more about you, so we encourage you to provide us with a brief summary of yourself and your past experience as part of the process. As soon as this is completed, you'll take a technical assessment based on your skill set, and if you pass, you'll earn 500 Outdefine tokens. We will review your application, and if you are qualified, we will invite you to a 1:1 video interview.

Already a Trusted Member of Outdefine? Then go ahead and apply directly for the job of your dreams.
Equal Employment Opportunity
We are an equal-opportunity employer and do not discriminate against any employee or applicant for employment on the basis of race, color, religion, sex, sexual orientation, gender identity, national origin, age, disability, veteran status, or any other protected status. We are committed to creating a diverse and inclusive environment for all employees and applicants for employment. All qualified individuals are encouraged to apply and will be considered for employment without regard to any legally protected status.
Become a trusted member, apply to jobs, and earn token rewards


Create a profile
Create and customize your member profile.


Complete assessment
Earn 500 Outdefine tokens for becoming trusted member and completing your assessment.


Apply for jobs
Once you are a Trusted Member you can start applying to jobs.
Apply Now