EXPLORE PREMIER

OPPORTUNITIES
As a skilled professional seeking career growth, you deserve access to the best job opportunities available. Join Outdefine's Trusted community today and apply to premier job openings with leading enterprises globally. Set your own rate, keep all your pay, and enjoy the benefits of a fee-free experience.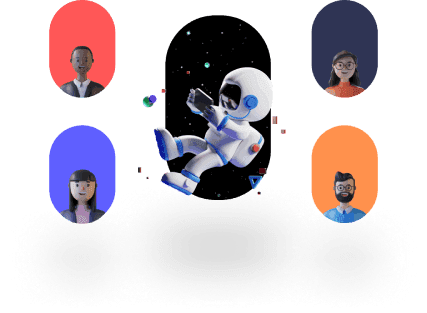 Join now
Experience level
Mid-level
Overview
About Outdefine

Outdefine is a web3 talent community that connects top talent with leading-edge companies and enterprises globally. Companies choose to hire Outdefine Trusted Members because their skills and readiness have been proven.

When you accept a job as a Trusted Member, you will keep all of your pay. Contrast this with traditional hiring networks and agencies that charge membership fees and take up to 50% of your earnings as their markup. Additionally, Trusted Members get access to premier jobs, networking, and a global community powered by tokens. You can earn Outdefine tokens by working, contributing to the community, and referring friends.

More than 100 jobs are currently listed on Outdefine, with more regularly added. Join over 5,000 professionals from 25 countries who are building and developing their careers with Outdefine.

In order to apply for this position, first complete your profile on www.outdefine.com. We want to make sure that your application gets the most attention, so we suggest that you start the assessment process now to become a Trusted Member.

To receive direct support from career experts, join Discord.
Skills
Requirements
Manage Cloud Environment (AWS/AZURE)

- Ability to develop and implement monitoring of critical functions, and file publications across on-premise and cloud-based infrastructure to prevent outages.
- Proactive monitoring of vulnerability management channels for threats and findings to be remediated within cloud environments.
- Collaborate and coordinate with TMNA teams on cloud operations.
- Must have the ability to manage and operate our cloud-based infrastructure with extremely minimal downtime (99.999% availability).
- Manage operational infrastructure and troubleshoot issues if they should arise.

Manage On-prem Pre-Production and Production Environment

- Perform monthly production server patching duties.
- Proactive monitoring of vulnerability management channels for threats and findings to be remediated within production environments.
- Collaborate and coordinate with TMNA teams in addressing any concerns with production systems.
- Perform and/or support on-prem RFC/Change Management processes/tasks in coordination with PM.

Manage the development and implementation of TMNA CCS Ops processes and standard operating procedures (SOP), Global Certificate Policy, and tools.

- Develop, implement, and maintain the CCS Ops SOP document tree.
- Develop, implement, and maintain SOP updates and schedule resources for review.

Must haves

- Monitoring solutions for on-prem, cloud, and hybrid solutions in support of extremely minimal downtime and early warning of any issues.
- Knowledge of usage and troubleshooting of TLS Certificate configurations such as mutually authenticated TLS.
- AWS Architecture and Operations Expertise.
- Facilitating communication between parties to understand resource, schedule, and scope conflicts and constraints and identify a mutually agreed-upon path to success.
- Fluent in English (reading, writing, speaking) for business and technical discussions.
- Demonstration of the following behavioral competencies:


Experience in the following areas is required: 

- AWS 
- Azure 
- OpenSSL 
- MS Office (Outlook, Word, Excel, PowerPoint)
- Scripting in any language  
- Wireshark Technical Roadmap

Nice to have

-  Delivering results as an individual and as a team member
-  Respect for peers and customers
-  Customer service and relationship management
-  Initiative to identify and improve aspects of the business – policies, processes, procedures, technologies, reports, and templates as needed
-  Self-education to continuously learn and invest in skills and knowledge relevant to the team and the position
-  Going above and beyond by understanding the business, anticipating needs, and delivering results that meet all quality expectations
-  Proactive management and creation of tasks, definitions of done, and deliverable dates for tasks requested of you and projects you manage
-  Mentoring and coaching to help develop a community of peers/experts

Experience in the following areas:

- Terraform
- JIRA
- Linux/nix
- MS Teams / SharePoint
Duties
A group company that develops IT solutions wherever global businesses operate. With 8 affiliates worldwide, this is a competitive IT service company now expanding to include cybersecurity services. Transforming into a technology and mobility company through its new cybersecurity division.

We are looking for an experienced AWS Operations Engineer to join our cybersecurity division, at the Plano location. 

As part of the product cybersecurity team, you will play an essential role in supporting our cybersecurity defense for the connected vehicle. This position requires developing cybersecurity services in the on-prem and cloud environment to protect our ecosystem from sophisticated attacks.
The Hiring Process
In order to apply for this position, first complete your profile on www.app.outdefine.com.

We want to learn more about you, so we encourage you to provide us with a brief summary of yourself and your past experience as part of the process. As soon as this is completed, you'll take a technical assessment based on your skill set, and if you pass, you'll earn 500 Outdefine tokens. We will review your application, and if you are qualified, we will invite you to a 1:1 video interview.

Already a Trusted Member of Outdefine? Then go ahead and apply directly for the job of your dreams.
Equal Employment Opportunity
We are an equal-opportunity employer and do not discriminate against any employee or applicant for employment on the basis of race, color, religion, sex, sexual orientation, gender identity, national origin, age, disability, veteran status, or any other protected status. We are committed to creating a diverse and inclusive environment for all employees and applicants for employment. All qualified individuals are encouraged to apply and will be considered for employment without regard to any legally protected status.
Become a trusted member, apply to jobs, and earn token rewards


Create a profile
Create and customize your member profile.


Complete assessment
Earn 500 Outdefine tokens for becoming trusted member and completing your assessment.


Apply for jobs
Once you are a Trusted Member you can start applying to jobs.
Apply Now