EXPLORE PREMIER

OPPORTUNITIES
As a skilled professional seeking career growth, you deserve access to the best job opportunities available. Join Outdefine's Trusted community today and apply to premier job openings with leading enterprises globally. Set your own rate, keep all your pay, and enjoy the benefits of a fee-free experience.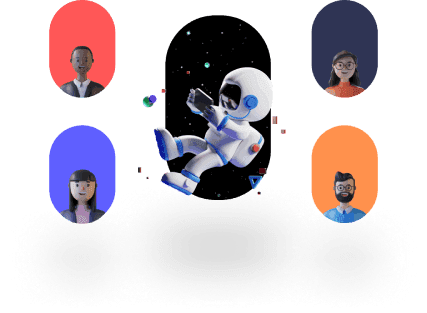 Join now

AI/ML Engineer
Outdefine Partner

Token rewards eligible
Hiring multiple talent
Experience level
Mid-level
Overview
We are seeking highly skilled and motivated AI/ML Engineers to join our dynamic team. As an AI/ML Engineer, you will be responsible for developing and implementing cutting-edge artificial intelligence and machine learning solutions. You will work on various projects, collaborating with cross-functional teams to drive innovation and deliver impactful results.
Skills
Artificial Intelligence
Machine learning
Python
Java
TensorFlow
Requirements
- Bachelor's or Master's degree in Computer Science, Engineering, or a related field.
- Strong knowledge of machine learning algorithms, statistical analysis, and data modeling techniques.
- Proficiency in programming languages such as Python, Java, or C++.
- Experience with popular AI/ML frameworks and libraries such as TensorFlow, PyTorch, or scikit-learn.
- Hands-on experience with data preprocessing, feature engineering, and data visualization.
- Familiarity with big data processing frameworks like Hadoop or Spark.
- Solid understanding of software development principles and best practices.
- Excellent problem-solving skills and ability to work on complex, open-ended problems.
- Strong communication and collaboration skills to work effectively in a team environment.
- Experience in deploying machine learning models in production is a plus.
Duties
- Design and develop machine learning models and algorithms for solving complex business problems.
- Collect, preprocess, and analyze large datasets to derive meaningful insights.
- Build, train, and fine-tune AI models using state-of-the-art techniques and tools.
- Collaborate with data scientists, software engineers, and domain experts to identify AI/ML opportunities and requirements.
- Implement scalable and efficient machine learning pipelines for data ingestion, feature engineering, model training, and deployment.
- Evaluate and benchmark different AI/ML algorithms and models to identify the best approaches for specific use cases.
- Conduct experiments, perform statistical analysis, and iterate on models to improve performance and accuracy.
- Ensure robustness, reliability, and scalability of AI/ML solutions through proper testing, validation, and monitoring.
- Stay up-to-date with the latest advancements in AI/ML research and technologies, and incorporate them into the development process.
- Collaborate with cross-functional teams to integrate AI/ML solutions into existing products or develop new AI/ML-driven products.

We offer competitive compensation packages and a stimulating work environment that fosters creativity and innovation. If you are passionate about AI/ML and eager to contribute to cutting-edge projects, we invite you to join our team of talented engineers.

Please note that the number of positions is 100+, and we are looking for candidates with 2 to 5 years of experience.
The Hiring Process
In order to apply for this position, first complete your profile on www.app.outdefine.com.

We want to learn more about you, so we encourage you to provide us with a brief summary of yourself and your past experience as part of the process. As soon as this is completed, you'll take a technical assessment based on your skill set, and if you pass, you'll earn 500 Outdefine tokens. We will review your application, and if you are qualified, we will invite you to a 1:1 video interview.

Already a Trusted Member of Outdefine? Then go ahead and apply directly for the job of your dreams.
Equal Employment Opportunity
We are an equal-opportunity employer and do not discriminate against any employee or applicant for employment on the basis of race, color, religion, sex, sexual orientation, gender identity, national origin, age, disability, veteran status, or any other protected status. We are committed to creating a diverse and inclusive environment for all employees and applicants for employment. All qualified individuals are encouraged to apply and will be considered for employment without regard to any legally protected status.
Become a trusted member, apply to jobs, and earn token rewards


Create a profile
Create and customize your member profile.


Complete assessment
Earn 500 Outdefine tokens for becoming trusted member and completing your assessment.


Apply for jobs
Once you are a Trusted Member you can start applying to jobs.
Apply Now